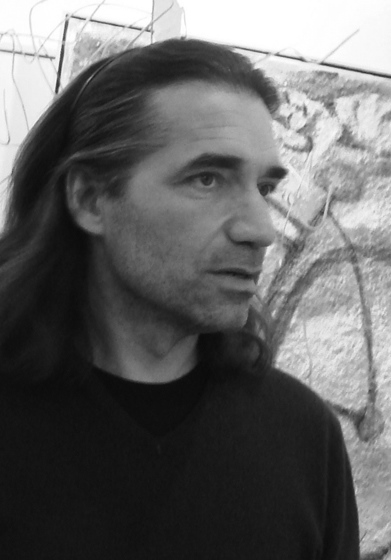 Andreas Psarakos was born in Velo, in Corinth in 1958. He took his first lessons in drawing and painting in the workshop of Vrasidas Vlachopoulos. He continued his studies during the period from 1978 until 1981 at the Vakalo School and had Vangelis Dimitreas and Giannis Valavanidis as teachers. From 1981 to 1983 he studied at the German School of Graphic Arts.
In 1984, he was granted a state scholarship and attended the program of study and application of plant colors aside professor Sofia Kana in Agios Nikolaos, Crete. He then collaborated with the graphic arts group "Omicron" and from 1989 through 1993, Andreas Psarakos undertook special orders for works for the "Studio Shop" chain in many Balkan countries.
Furthermore, he created custom portraits of famous people which decorate the "Coronet" Theater.
Today he lives and works in Athens. He has made 14 solo exhibitions and has participated in many group exhibitions.
His works are part of many private collections in Greece and abroad and are available for sale in the shops of the Concert Hall, the Foundation of Fine Arts and Music V. and M. Theocharakis, the Cultural Center of the Stavros Niarchos Foundation and in important galleries across the country, as well as in European capitals and cities.
Since 2005, he has been a member of the Chamber of Fine Arts of Greece. The works of Andreas Psarakos are registered by the Industrial Property Organization. Each of his creations is unique, handmade and painted by him and is accompanied by a certificate of authenticity.
Andreas Psarakos prefers the bright colors that refer to the pop art technique and has a playful, happy mood.Free from any notion of seriousness, exonerated in the face of the purity of his inspiration, he creates works that take us back to the age of innocence.
Bicycles, umbrellas, figures, cars, a summer hat, a pair of flip flops, scenes from the life on the beach, animals, cars, school buses, trees, boats and other favorite objects become his protagonists. He places them in raging environments using explosive colors, in clear blue skies, foamy seas, green landscapes.
The artist lets his three-dimensional memories from sculpture lead him to the new sphere of two dimensions, drawing his inspiration from his favorite subject. An intended and conscious return to the crate that exudes optimism and a positive mood.